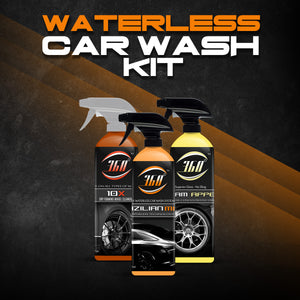 Waterless Technology Kit 3pk (16oz. Brazilian Mist, 10-X, Xtream Appeal)
Water Restrictions?? No Problem. Do you live in a condo,town home, apartments or anywhere water use is restricted or limited?  Our Waterless kit allows you to get the benefits of a traditional car wash without the mess and extra work. 
Brazilian Mist will clean and protect all in one wipe
10x Foaming Degreaser will take care of cleaning and degreasing your tire and wheels
Xtream Appeal is the perfect dressing to protect your interior and give your tires the wet look (but dry to the touch) 
10x is our dry foaming wheel cleaner, just spray it and watch the foam loosen up and remove dirt with little effort. Our most popular product Brazilian Mist waxes and polishes your vehicle all at the same time. Xtream Appeal is very easy to use and safe on tires, plastics, rubber, vinyl, and engine. Just spray or wipe on the surface you want to bring back the gloss. Gift for my grandson, he was excited to recieve it.